Coolum Beach Nippers Handbook
Season 2023-2024
Welcome to Coolum Beach Nippers
Nippers is one of Australia's favorite sports and we're thrilled that your family has chosen Coolum Beach Surf Lifesaving Club as your club! The ocean is a big part of our way of life here in Coolum and the Nippers program is dedicated to ensuring your child can be safe on the beach for the rest of their life. The Nippers program also introduces children to Surf Lifesaving and the pathway to community service through lifesaving patrols. Our program focuses on skill development, beach education, and fun!
The Nipper Program
The Coolum Nipper program is open to children aged 5 to 13. We offer a competitive and non-competitive program. Some families will join Nippers with a focus on learning to be safe in the ocean, and others will want to take that skill further and compete at carnivals. Regardless of the goal, we're confident our program caters for every future lifesaver.
2023-24 Nipper Season Schedule
3 Jul 2023
Renewing Nipper Registrations Open - ONLINE ONLY
Returning Nippers Online Registration & Info
17 July 2023
NEW NIPPER REGISTRATIONS OPEN - ONLINE ONLY
New Nippers Online Registration & Info
6 Aug 2023
New Nippers Information Sessions
For new families to find out more about Coolum Nippers.
Sessions start at 2 pm & 3 pm with a short talk & with an opportunity for families to ask questions afterward.
PLEASE NOTE - This is not a sign on session - all Nipper membership registrations are online.
14 Aug 2023
Memberships cut-off date for 1st pool proficiency
Memberships must be fully completed by 14 Aug for those booked to attend the pool proficiency on 27 Aug to allow for admin processing.
27 Aug 2023
1st Pool Proficiency - 12 pm & 12.30 pm
Location - Coolum Peregian Aquatic Centre. Please arrive promptly for registration. Bookings Essential
28 Aug 2023
Memberships cut-off date for 2nd pool proficiency
Memberships must be fully completed by 28 Aug for those booked to attend the pool proficiency on 10 Sept to allow for admin processing.
10 Sept 2023
2nd Pool Proficiency - 2 pm & 2.30 pm
Location - Coolum Peregian Aquatic Centre. Please arrive promptly for registration. Bookings Essential
22nd Sept 2023
Preseason Uniform Collection TBC - 4 pm to 5.30 pm
Coolum Surf Lifesaving Clubroom
24 Sept 2023
First day of Nippers including Beach Proficiency
Coolum Surf Lifesaving Club
TBC
U11-U13 Age Champs
Coolum Surf Lifesaving Club
TBC
Nipper Holiday Breakup Session
Coolum Surf Lifesaving Club
TBC
Nippers returns for 2023
Coolum Surf Lifesaving Club
TBC
Nippers Presentation & AGM
LocationTBC
Nipper Proficiency
Before joining the Nipper Program and at the start of each season, all Nippers must complete a pool and beach proficiency. Pre-season proficiencies are to ensure our Nippers will be safe in the ocean and must be completed by every Nipper at the start of every season. At Coolum, we have a higher standard for our proficiency evaluations than some other clubs and require all Nippers to complete the SLSQ competition proficiency distances as a minimum. This is because we operate on an open water beach where conditions can be challenging, plus starting this season attending Nipper carnivals is an expected part of joining Coolum Nippers.
Each nipper must complete an age-appropriate pool proficiency swim & float. If successful, they go on to complete an age-appropriate ocean proficiency swim or wade. (see below for distances) Nippers who are unsuccessful at their first pool proficiency are encouraged to try again. For Nippers who are not able to pass the pool proficiency at the second attempt, we recommend the child completes a season of swimming lessons and returns to Nippers the following year once competent in the water.
If a Nipper passes the pool proficiency but is not successful at their ocean proficiency, they can keep attempting this proficiency each Sunday session until successful.
Please Note - Until a nipper passes the ocean proficiency, they are not able to participate in any board activity and ocean swimming must be done with 1:1 water safety. If this water safety ratio is not available during a session, the non-ocean proficient Nipper will not be permitted to enter the ocean.
Pool proficiency for each age group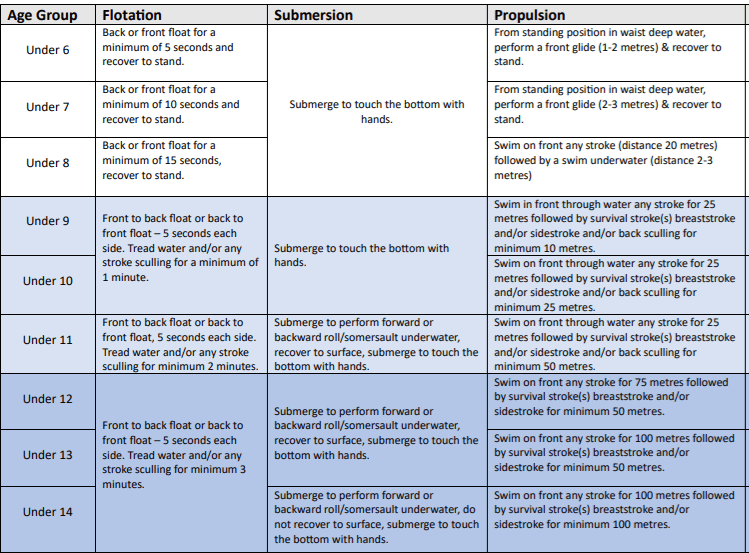 Nipper Carnivals
Most Nipper Carnivals are split into the lower and upper age groups. Only one carnival in the season is an all-age carnival and that is the first carnival of the season, typically held at Rainbow Beach.
U8-U10 carnivals are participation only but a great way to have a go and get used to the carnival environment.
U11-U14 carnivals are competitive and Nippers earn points for themselves and their club.
Carnivals are a part of the Nipper program at Coolum this year and all nippers are encouraged to attend. As such if a carnival is on (either Sat or Sun of the weekend) this takes the place of the normal Sunday session for the relevant age groups. Eg the U8-U10 Teams carnival is on Saturday 11 Nov so there will be no Nippers session for the U8-U10 age groups on Sunday 12 Nov.
More information regarding carnivals can be found here - Nipper Carnivals
QLD Youth Championships - Nippers who finish top 12 at Branch will have their States carnival nomination costs covered by the club. Non-qualifying Nippers can choose to nominate for States.
There are additional carnivals throughout the season (e.g Coolangatta Gold, Ironperson Eliminator Carnival) that Nippers can choose to attend. More information about these events is posted on TeamApp. Parents must cover the entry fee, however club equipment may be available for use at these carnivals.
Club Sundays
Club Sundays are for every Nipper! Sundays are about beach education, fun, and getting wet! Sunday sessions run from 7.45 am – about 10 am.
Under the control of the Age Managers, Nippers take part in activities on the beach and in the water. The focus on Sundays is working through the SLSQ Junior Development Awards, extending Nipper's confidence through practicing the different Nipper events, and having heaps of fun doing team events such as practice rescue scenarios and obstacle courses.
Important Note -
U8-U10 age groups have a carnival (on Sat or Sun) there will be no Sunday Nippers session at Coolum for these age groups.
U11-U13 age groups have a carnival (on Sat or Sun) there will be no Sunday Nippers session at Coolum for these age groups.
Nipper Sunday Session Schedule
7.30 am
Club swim - For U11 and older Nippers.
Every Sunday the Club hosts the Kennedy Cup Swim where Nippers, Youth/Cadets, and patrolling members can participate in an equalised, timed run-swim-run to earn points throughout the season. All ocean-competent Nippers aged U11 and older are encouraged to give it a go.
7.45 am
Sign-on
Parents sign Nippers in with their Age Managers on the beach – at this time Age Managers will pass on any important updates.
8.00 am
Program starts
Nippers then split into their age groups with Age Managers & Coaches work through the various rotations available on the day. Weather permitting, Nippers will participate in water, beach, and education activities each Sunday.
Important Note: A parent or guardian must be on the beach and contactable at ALL times during all nipper activities including Sunday sessions, all training, and carnivals. Under no circumstances can parents/guardians drop kids at nippers and leave.
It's also imperative to sign your child in and out and let your Age Manager know if you are leaving early or taking your nipper off the beach for any reason. Making sure every child is accounted for at all times is essential in a public and water environment.
At the conclusion of the Sunday program, parents must sign their Nipper out with the Age Manager, and at this time Nippers remove their coloured cap. This is a safety issue and indicates the parent/caregiver is now responsible for the Nipper.
Nipper Equipment
At Coolum, we are fortunate to be able to provide the full range of equipment required to participate and compete in the Nippers program. This includes a range of boards suitable for all levels of expertise. We all must take responsibility for this equipment so we can continue to be able to offer this service. We understand that sometimes damage happens - all we ask is that you inform your Age Manager or Coach of any damage so we can organise repairs.
Nipper Events
The Nipper program consists of beach events and water events.
Beach Events
Beach races
Sprinting a set distance on the sand (approx. 70m)
1km or 2km run (dependent on age)
All age groups
Flags
Start lying flat on the sand.
Get up, turn and run a short distance to grasp a length of hose standing in the sand. The event is run over several rounds with a Nipper eliminated each round until there is an eventual winner.
All age groups
Beach relays
Teams of four run a relay over similar distances to the beach races.
All age groups
Water Events
Surf wade
Running through shallow water around two water safety persons standing in knee-deep water.
U6-U8
Surf swim
Starting on the beach, running into the water, and swimming around two buoys and back to the beach.
U9-U13
Board race
Starting on the beach and running into the ocean and paddling a board around the buoys and back to the beach.
U9-U13
IronPerson
An individual race that includes a swim leg, board leg, and beach sprint.
U11-U13
Board relay
A team of three paddle their boards one at a time in relay-style around the course.
U9-U13
Cameron relay
A four-person relay involving a swim leg, a board leg, and two beach sprints.
U9-U13
Board rescue
A two-person event where one person swims out to a buoy and the second paddles out on a board and then both return to the beach on the same board.
U9-U13
Age Championships
This season only U11 to U13 groups will participate in Age Championships. During this session, Nippers compete in all events and earn points. The combined total of Club Championships points determines the age champion for each age group.
Age championship date - Sunday 26th of November 2023
To be eligible for a Club Championship award, children must attend more than 51% of the Sunday morning sessions throughout the season and be present on championship day.
Awards for the 2023-24 season
U6 to U10 - non-competitive
Most Improved - male & female
Rising Star - male & female
Coolum Culture - one per age group
U11 to U13
Age Champ - male & female
Age Champ runner up - male & female
Encouragement Award
There is also a range of overall awards including the Coach's Award, Most Promising, etc that are awarded out each season.
Training Sessions
At Coolum, we are lucky to have the support of talented lifesavers and parents who assist with training, coaching, and mentoring our Nippers. We are proud of our program which offers a full selection of training options designed to develop strong Nippers. We encourage all Nippers to attend training sessions to help expand on their skills and fitness. The only requirement is an enthusiastic attitude and respectful behavior.
NOTE - All training sessions for 2023-24 Nipper season
Day
Morning
Afternoon
Monday
4 pm – 5 pm
General run fitness for all ages - (running shoes required and parents welcome) @ Coolum Beach
Coach Chris
Thursday
6 am – 7 am Ocean training: board, swim, and iron training @ Coolum Beach
Coach Nic
Advanced Nippers
Friday
Basic - Advanced Nippers
4 pm - 5 pm Ocean training: board, swim, and iron trianing @Coolum Beach
Coach Nic
Junior Development Awards
Surf Life Saving Australia has developed a comprehensive education program for Nippers. This program is what is delivered on Club Sundays. The content is tailored to each age group, and the program is based on participatory evaluation rather than competence. As long as Nippers are present & actively involved in each of the lessons they are eligible for the award.
Surf Play 1 and 2 (U6-U7)
The focus is on play, participation, and fun. Lessons cover simple beach safety and awareness. Surf sports skills involve wading, beach sprinting, and beach flags.
Surf Aware 1 (U8)
The focus is on understanding, identifying, and demonstrating safety and dangers that relate to themselves. Eco-surf discusses the beach environment and communities. Surf sports skills focus on bodyboarding, wading, dolphin-diving, beach sprint starts and beach flag starts.
Surf Aware 2 (U9)
Builds on Surf Aware 1. The idea of a personal safety network is introduced so children are comfortable asking for help. Children learn about hazardous surf conditions. Eco-surf talks about the impact lifesavers have on the beach. Surf sports skills focus on board positioning and paddling, sand running technique, and diving for a beach flag.
Surf Safe 1 (U10)
The focus is on recognising unsafe behavior & identify adults at surf clubs who can ask for help. Eco-surf focuses on water conservation, sun safety, and the consequences of skin damage. Children learn about rips and preventative action. Rescue techniques are introduced and children learn to use boards to assist other swimmers. Surf sports skills focus on entering and negotiating the surf on a board and beach relay baton changes.
Surf Safe 2 (U11)
This level introduces the more technical aspects of lifesaving and Nippers are more physical in surf sports skills. They are encouraged to persist when needing help. There is a strong focus on recognising 'at risk' people. Surf sports skills focus on board dismounts, catching waves, board relay, surf swimming techniques, and crouching beach sprint starts.
Surf Smart 1 (U12)
Nippers learn about their rights & responsibilities as members of SLSA and consider personal health and wellbeing. Surf sports skills focus on completing all the skills including rolling under a wave on a board, diving under large waves, beach sprint arm and leg drive, and beach flags race strategies.
Surf Smart 2 (U13)
The focus is on surf lifesaving safety from various viewpoints – SLSA member safety and wellbeing, climate change and the impact on surf lifesaving, communicating with beach users and other professional emergency services, and surf safety tips. Surf sports skills focus on bringing all the skills learned in previous awards together to participate in an event for each of the disciplines.
Nipper Uniform
Each Nipper will receive an age-relevant coloured cap and a long-sleeved pink rash shirt as part of your membership fee. These are essential to Nipper identification and safety and are compulsory at every Nipper Sunday & training session.
Uniform Collection Session for 2023 - TBC at TBC in the Coolum SLSC clubroom
Club branded swimwear and clothing are available for sale via our Pop-up Uniform Shop throughout the season. Club swimwear is compulsory for Nippers who attend carnivals but optional for Club Sundays or training sessions.
Important: Please label all clothing before the start of the season as replacement items will have to be purchased.
Prices for 2023-24 season -
| | | |
| --- | --- | --- |
| Item | Price | Replacement Price |
| Coloured age cap | 1st included in registration fee | $15 |
| Long sleeve pink rashie | 1st included in registration fee | $55 |
| Jammers | $75 | |
| Girls one piece | $70 | |
| Girls two-piece | $70 | |
| Girls Swim Shorts | $40 | |
| Competition pink rashie | Provided for competing nippers | $POA |
| Competition cap | Provided for competing nippers | $15 |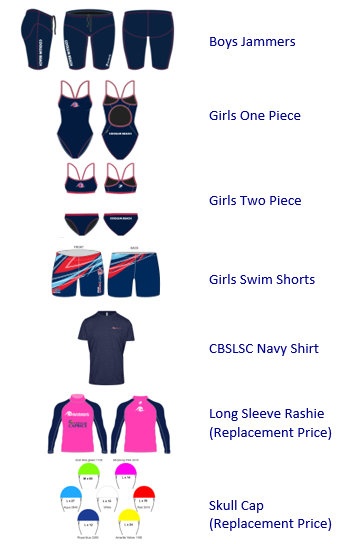 Sun Safety
The Nipper program is delivered in an environment that can pose a risk to our young Nippers – under the fierce Australian sun. To help protect our participants, Coolum Nippers has moved to a SunSmart long sleeve rashie.
All parents and caregivers are reminded to thoroughly apply sunscreen and/or zinc to any areas of skin not covered by the rashie or togs before every Nipper session.
Water Safety
Coolum Beach Nippers takes water safety very seriously. The guidelines for water safety are laid down by SLSQ and must be adhered to at every ocean session. These guidelines are non-negotiable. Due to the changing nature of beach conditions, we have several strategies in place to ensure the safety of all Nippers in the water.
The Water Safety Coordinator is responsible for the safety of Nippers in the water. They decide if the surf conditions are suitable for conducting activities and the best locations and the required water safety ratio. If conditions become unsafe, they will determine that activities must be altered or stopped.
Water Safety Personnel must be suitably qualified (Bronze Medallion or SRC) and must wear the bright orange cap and rash vest during water activities to allow for easy identification. No water race or activity will commence unless there is sufficient water safety personnel.
Any parent or caregiver who would like to complete the Bronze Medallion or Surf Rescue Certificate course to help out in the water is encouraged to do so. The more water safety we have, the safer our Nippers are.
How you can help - Volunteering with Nippers
Coolum Nippers is run entirely by volunteers. Nippers is a wide-ranging program (water, beach, education, and fun) delivered in an environment that can present significant challenges. To ensure the smooth running of Nipper sessions & to keep our kids safe we need every family to offer support and volunteer in some way. Under our CYRMS policy the following requirements must be met:
All parents/caregivers/volunteers must join the club (as a minimum at the level of an Associate Member) for insurance purposes.
All parents/caregivers/volunteers must hold a current Working with Children Blue Card. There is no cost for the blue card and this will be organised at registration.
It is a legal requirement that a parent or caregiver is present at every Nippers session. Children cannot be dropped off and left.
Some of our volunteer positions require different awards and the club supports all volunteers to achieve the required awards so we can ensure the ongoing safety of our Nippers.
Our Nipper program is run solely by volunteers and relies on parents getting involved and helping out and we promise you'll have as much fun as our Nippers do!
The club cannot function without people volunteering their precious time and there are a number of ways you can assist our club. We require all families to assist in activities on Sundays, around the club during the season, and at carnivals. Please register a position you can help with during the season:
-Volunteer for beach set up and pack up of activity stations. Click here Nipper Beach Set Up Schedule to nominate dates you can help
-Volunteer on the BBQ: Set up; cooking; serving; pack up. Click here Nipper BBQ Volunteer Schedule to nominate dates you can help
-Become an Age Manager. Email nippers@coolumsurfclub.com.au
-Assist the Age Manager with Nipper sign on/off. Email nippers@coolumsurfclub.com.au
-Complete the Carnival Officials course to assist at carnivals. Email nippers@coolumsurfclub.com.au
-Assist at Carnivals. Email nippers@coolumsurfclub.com.au
-Complete the Surf Rescue Certificate (SRC) to assist with Water Safety on Nipper Sundays. Email nippers@coolumsurfclub.com.au
Nipper Volunteer Positions 2023-24
Committee positions
Junior Activities Chairperson (JAC)
Responsibilities - Shall chair all meetings of the Nipper Committee (NC) at which they are present & shall exercise general supervision over the affairs of the NC. The Chairperson shall, when presiding at a meeting, have a deliberative & a casting vote. They shall submit an annual report of the NC to the Club and submit regular reports to club management. The JAC (or a representative) is required to attend & report at monthly Club Management Committee (MC) meetings.
Training - On the job training. The JAC is required to be an Active Member of CBSLSC.
Commitment - Regular Nipper & Club Management committee meetings. Time throughout the week as required to complete tasks.
Vice JAC
Responsibilities - In the absence of the Chairperson, the Vice-Chairperson shall perform all the duties usually undertaken by the Chairperson.
Training - On the job training
Commitment - Regular committee meetings. Time throughout the week as required to complete tasks.
Secretary
Responsibilities - The Secretary will attend to all the correspondence, attend all meetings, record the minutes of the meetings, & assist in the preparation of the reports. The Secretary shall issue notices of meetings & any circulars of matters of interest to the NC in conjunction with the Club Secretary.
Training - On the job training
Commitment - Regular committee meetings. Time throughout the week as required to complete tasks.
Treasurer
Responsibilities - Is responsible for the overall supervision of any financial commitments of the NC & shall submit reports to the NC. The Treasurer is required to submit a budget of income & expenditure & shall maintain a 'credit & debit' ledger of the NC financial dealings with a view to establishing the standing of the NC. They shall provide & seek co­operation of the Club Treasurer.
Training - On the job training
Commitment - Regular committee meetings. Time throughout the week as required to complete tasks.
Carnival Team Manager
Responsibilities - Responsible for the control & conduct of the competitors at Branch & State Nipper carnivals throughout the season. The Carnival Manager or the age managers shall record the attendance & results of the competitors at carnivals. They are responsible for preparing the age competitors & teams as selected by the Selection Committee for their respective events.
They are responsible for lodging all protests at a carnival as per the Association Handbook. The Carnival Manager may be assisted by an assistant Carnival Team Manager and the Nipper age group managers.
The Carnival Manager is responsible for carnival nominations in conjunction with the Nipper Age Managers & Coaches. Will be required to submit nipper carnival nominations through SLSQ Carnival Manager system.
Training - N/A
Commitment - attend carnivals, submit nominations through the week
Volunteer Coordinator
Responsibilities – Responsible for communicating with and organising Age Managers and other volunteer staff. Age Manager Recruitment and start of season briefings. Management of Age Manager Accreditation with Admin and Training Team through the season.
Training – Age Manager for at least 2 years
Commitment - as required
Non-committee positions
Uniform Coordinator
Responsibilities - Is responsible for organising uniform orders for the season & liaising with the NC to select suitable items, maintaining stock levels, and selling uniforms each Sunday Nipper session.
Training - N/A
Commitment - Pre-season organisation & ordering of uniforms, Nipper Sundays
Education Coordinator
Responsibilities - Is responsible for organising specific educational programs and events to further the education of nippers. Is responsible for overseeing the Nipper Age Award requirements for each age group in conjunction with Age Managers.
Training - On the job training
Commitment - Nipper Sundays
Water Safety Coordinator
Responsibilities - Is responsible for coordinating water safety personnel on Nipper Sundays. Will liaise with the on-duty Patrol Captain & JAC each session to assess conditions and select appropriate positioning of water areas.
Training - Must be qualified Bronze Medallion or Surf Rescue Certificate (SRC)
Commitment - Nipper Sundays
Age Managers - x 3 in each age group
Responsibilities - Age Managers are assigned to a particular age group for the season. They are responsible for the Nippers in their group and coordinating their participation in the range of activities.
Training - Age Managers are required to complete three different awards which take about 2 hours, before the season. Age Managers are supported with a handbook of information & the committee who are available at all times. Age Managers don't have to hold a Bronze or SRC and can fulfil the Age Manager duties from the beach.
Commitment - Nipper Sunday sessions throughout the season. We aim to have 3 AMs in each age group to allow for breaks & holidays.
Age Groups - U6, U7, U8, U9, U10, U11, U12, U13
Gear Steward
Responsibilities - Is responsible for all the Nipper equipment, making sure such equipment is in good condition and repair and properly housed. Organisation of equipment repairs when required. Co­ordinate beach setup at Nipper Sundays.
Training - N/A
Commitment - Nipper Sundays
Communications Coordinator
Responsibilities - Is responsible for the publicity of the Committee, to publish the results of the Committee activities & carnivals, as well as points of interest from the committee meetings & Nipper events. Manage Junior Lifesavers Coolum Beach Team App account.
Training - N/A
Commitment - as required - weekly briefing, carnival updates, etc
Photographer - x 2
Responsibilities - Must be accredited by SLSQ and will attend Nipper Sunday sessions, events & carnivals to take photos. Ideally, we have 1 photographer who has a competitive nipper in the U8-10 group and 1 in the U11-13 group to cover both age group carnival levels.
Training - Photographer accreditation (form)
Commitment - Nipper carnivals & events
Fundraising
Coolum Nippers relies on fundraising, Nipper fees, and sponsorships to operate. Funds raised throughout the year in various initiatives allow us to keep our membership prices down and provide the equipment we need to run a safe and effective Nipper program. Families will be called on to support different fundraising initiatives a couple of times a season, including the Surf Life Saving Appeal.
Pathways after Nippers
After completing U13s nippers have the opportunity to complete the SLS Surf Rescue Certificate which is offered to U14s. Most years there is a U14 SRC Course Camp that is held during the September school holidays. Once completed, nippers transition to being Cadets and can join a Lifesaving patrol at Coolum SLSC.
Cadets can go on to take up many other opportunities throughout SLS including completing their Bronze Medallion or First Aid Certificate, becoming a Radio Operator, or learning to operate the IRB craft. Further opportunities to compete in a range of water and beach competitions through SLS are available to cadets also.
Injury and Insurance
All Nippers are covered by relevant Personal Accident Insurance or WorkCover in the case of injury. Junior members under the age of 14 are covered by the association's Personal Accident and Public Liability Insurance that provides coverage for non-Medicare medical expenses (i.e. dental, physiotherapy) subject to a limit of $5,000. These expenses must be incurred within 12 months of sustaining injury. All injuries must be reported to your Age Manager or Coach at the time of the injury.
Nipper Code of Conduct
The Coolum Nippers Program is delivered entirely by volunteers who give their time and energy to make our program a success. In return, we expect that all our volunteers are shown respectful behavior by every Nipper and their supporting family members at all times.
To maintain a respectful level of behavior we promote and support a 3 Strikes Behavior Management policy:
| | |
| --- | --- |
| Strike 1 | The Age Manager will ask the Nipper to stop the inappropriate behavior |
| Strike 2 | If the Nipper continues the inappropriate behavior, the Age Manager will remove the Nipper from the group and ask them to sit out the activity for a period of time. |
| Strike 3 | If the Nipper continues the behavior after a "time out", the Nipper will be asked to leave the session. The Nipper's parent/caregiver will be required to sign the Nipper out and respect the Age Managers' decision. |
Nippers' Code of Conduct
Participate to your best ability
Follow the rules
Treat volunteers with respect
Listen to your Age Manager and Water Safety and follow instructions at all times
Have fun!
Respect all your team members
Parents' Code of Conduct
Encourage children to follow the rules
Encourage and recognise that the effort is as important as the result
Value and promote good sportsmanship
Do not yell at a child
Do not publicly question a volunteers' decision
Recognise the efforts of volunteers
Do not make an unwilling child participate in activities
Remember children are involved in activities for their benefit – not yours
Respect the rights, dignity, and worth of every young person regardless of their gender, ability, cultural background, or religion.
Clubhouse Rules
All Nippers are required to abide by the following clubhouse rules:
No Nippers in the clubhouse on Sunday morning before 8 am
On Sunday mornings, only the external showers may be used by Nippers
After mid-week training, the inside showers may only be used if parents are active members and key holders, and remain in attendance in the change room/showers at all times to supervise Nippers.
Communication
There's a lot that goes on with Nippers and lots to keep you informed of. Team App is the main way we will communicate with you before and during the season. This is the best way to get the information you need when you need it. All families should download Team App from the app store and request membership to Junior Lifesavers Coolum Beach.
Coolum Nippers Communication Methods
| | |
| --- | --- |
| Team App | Everything will be shared here! Especially information that is regularly updated or that needs to be shared promptly e.g training schedules, carnival details, calls for help, and updates. Team App also allows for two-way communication so you'll be able to ask the committee and coaches questions. It's imperative you have Team App and check it regularly for relevant information. Instructions on how to set up Team App can be found here - Nipper Communication |
| Website | Overview of our club, our program, general info, and our policies. |
| Email | For official club information only e.g launch of the new season and call for registrations, etc |
| SMS | For urgent club information only |
| Facebook | Reserved for club highlights – please follow Coolum Beach Surf Lifesaving Club Facebook page |
SLSQ Photography Policy
Surf Life Saving Queensland has updated its Photography Policy. Previously members were directed to provide their consent to the use of their images in Life Saving publication areas such as newsletters, social media, and websites. This has been changed to a policy of members indicating NON-Consent for use of imagery to reduce the administrative requirements for clubs.
Coolum Beach SLSC Nippers is providing the SLSQ Photography Non-Consent Form to all nipper families to complete if they DO NOT WISH images of their nipper/s to be used within our club Team App groups, newsletter, website, social media, or annual report booklet.
All forms submitted will be kept on file by the club and a reference to the photography non-consent request may be noted on Surfguard.
Our official Club and Nipper Photographers will be made aware of these individuals and their indication of non-consent. Our administration team as well as those volunteers involved in publishing information and images to our club Team App groups, newsletter, website, social media, and annual report booklet will also receive this information.
Due to the fact that the admin team & some of these volunteers are not directly involved in Nipper activities, and therefore would not be able to identify a non-consent individual in a photo, we will request a photograph of the 'photography non-consent nipper' which would be kept privately on file for reference purposes.
How do I access the SLSQ Photography Non-Consent Form?
An editable PDF of the SLSQ Photography Non-Consent Form can be found here – slsqcm.entegyapp.com.au
Forms are to be completed and submitted to our Club Administrator at admin@coolumsurfclub.com.au.